Pole Dancing Adventures: Volume One (Paperback)
$10.00
In stock
Description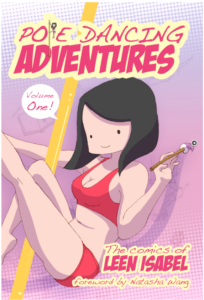 Orders placed will receive the entire Kickstarter package (the book, 2 art prints, tattoo sheet, bookmark, and greeting card) until supplies last!
The first year of Pole Dancing Adventures will be collected into a 100 page volume featuring over 100 comics! The book will also include a foreword by international award-winning pole dancer, Natasha Wang! 
This book is perfect for pole dance enthusiasts as well as for anyone curious about the dance form. Don't pole dance but know someone who does? This would be the perfect gift! Are you too shy to try pole dancing for yourself? Buy this book to learn more about it!
Paperback: 100 pages
Language: English
ISBN-10: 0996024719
ISBN-13: 978-0996024716
Product Dimensions: 13 x 10 x 1 inches