Joshua Bell Recital: Los Angeles, Walt Disney Concert Hall
Tonight, I attended with Win my third (and his 2nd) Joshua Bell concert. This was my second recital to see of him and he did not disappoint. He performed with a longtime collaborator, Jeremy Denk. His repertoire included: Bach's Violin Sonata No. 4 in C minor; Grieg's Sonata No. in C minor; Schumann' Sonata No. 1 in A minor; and Ravel's Sonata for Violin and Piano.
The duo have worked together before during past performances and they have such incredible chemistry. During the last movement of the Grieg, there was a phrase that involved an exchange of violin pizzicato and the piano mimicking the violin that just had me on the edge of my seat. Their pacing never wavered and it was incredible the way they weaved the phrase between each other. As well as the beginning of the 2nd movement of the Ravel, it begins with an intense pizzicato which transfers over to the piano. Their exchange was flawless. It's so pleasant to hear Bell in person again — I feel that as he gets older, I find myself more and more in love with his playing. Even more so than before there's such a clarity in his technique that each and every note just stands out so vividly. I appreciate his passionate way of expressing the music but he never overwhelms the piece with too much gusto. Despite being a very physically expressive violinist, his movements just do not hamper his clarity. And his way of holding notes at the end is just magic for me. (Omg his harmonics! ::faint::)
Overall, the Grieg and Bach were my most favorite and as well as his encore, a Fritz Kreisler piece.
And last, but not least, it's finally happened and a dream has been realized! After 11 years of being a fan, I have met my violin hero and I've been wearing a grin all evening! I was so happy to tell him how much he influenced my studies when I was younger. He was very polite and very humble. He took my hand and thanked me. So refreshing to meet a gentleman.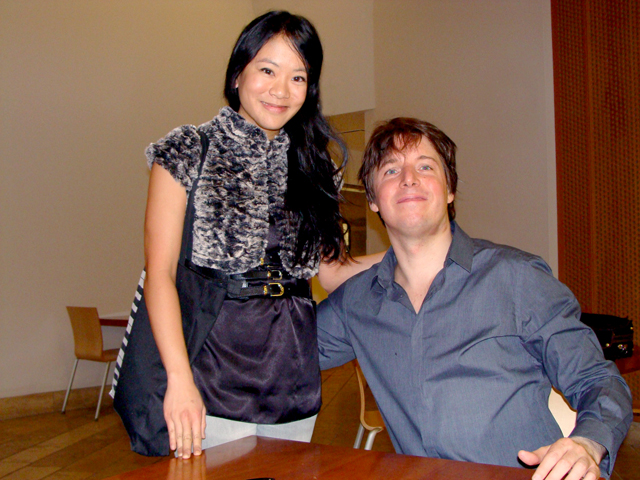 Please excuse my disheveled, post-work face. And yes, Leen be rocking that faux fur.
Hee, for fun, I picked these chocolates up during lunch at work today. It's Mozart & Constanze! Ah, I love the German Deli!